Lewis Bernaldo de Quiros, 6th dan, February 3-4 2018
Aikido Dojo Gamlestaden welcomes all aikidoka, regardless of rank or style, to a seminar with Lewis Bernaldo de Quiros Sensei 6th dan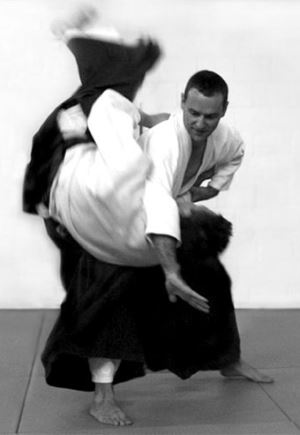 Lewis Bernaldo de Quiros trained under the late Morihiro Saito Sensei (9th Dan) from 1986 until 1993 in the Iwama Dojo in Japan. He has been busy ever since teaching Aikido in seminars throughout Europe. After returning from Japan he maintained regular contact with his teacher through seminars both as a participant as well as assistant and translator. He received the rank of 5th dan Aikikai from Morihiro Saito Sensei in 1999 and 6th Dan Aikikai from Hombu Dojo Tokyo in 2009.
Lewis Sensei is the senior instructor of Takemusu Aikido Kyokai Nederland (TAKN) and is associated through seminar and examination activities with a network of dojo's practicing the same style. Takemusu Aikido in the Netherlands is affiliated with Aikido Nederland (AN) and with Takemusu Aikido Kyokai (TAK) in Europe.
Schedule
Register here! Please note that you have to be insured to participate in the training.
Saturday 3rd
Class 1 10:00-11:00
Class 2 11:10-12:10
Lunch 12:10-13:30
Class 3 13:30-14:30
Class 4 14:40-15:40
Class 5 15:50:-16:50
Party in the evening at a restaurant (see below).
Sunday 4th
Class 1: 10:00-11:00
Class 2: 11:10-12:10
Class 3: 12:20-13:20
Don't forget to bring jo and bokken! There will be weapons to borrow.
Location
Frölunda Judoklubb, Klubbvägen 8, Västra Frölunda ( map )
Trams 1, 7, 8 to Frölunda torg, buses 92, 93 from Frölunda torg to bus stop "Hults bro".
Accomodation
It is possible to sleep at the Frölunda dojo, where the cost is 75 SEK per night (to be payed on location). Aikido Dojo Gamlestaden's dojo (Byfogdegatan 3B) is also open for those who need a place to sleep, free of charge. If you prefer to stay in a hotel or hostel, there are a number of places to choose from. Please contact us if interested.
Prices
The seminar fee includes a light lunch (vegetarian) for Saturday, and is SEK 700 for both days. Young people under 16 pay half the fee. If you only can come one day, please contact us for details.
Payment should be made to
postgiro 462 37 05-3
Swish 123-1617109
bank account SE83 9500 0099 6042 4623 7053 (NDEASESS)
in cash upon arrival (for participants from abroad!)
We will appreciate payments done in advance, to simplify the handling during the seminar.
Flyer
You can download a flyer to post on your message board.
Party
The details for the arrangements for the party on Saturday evening will be posted later.